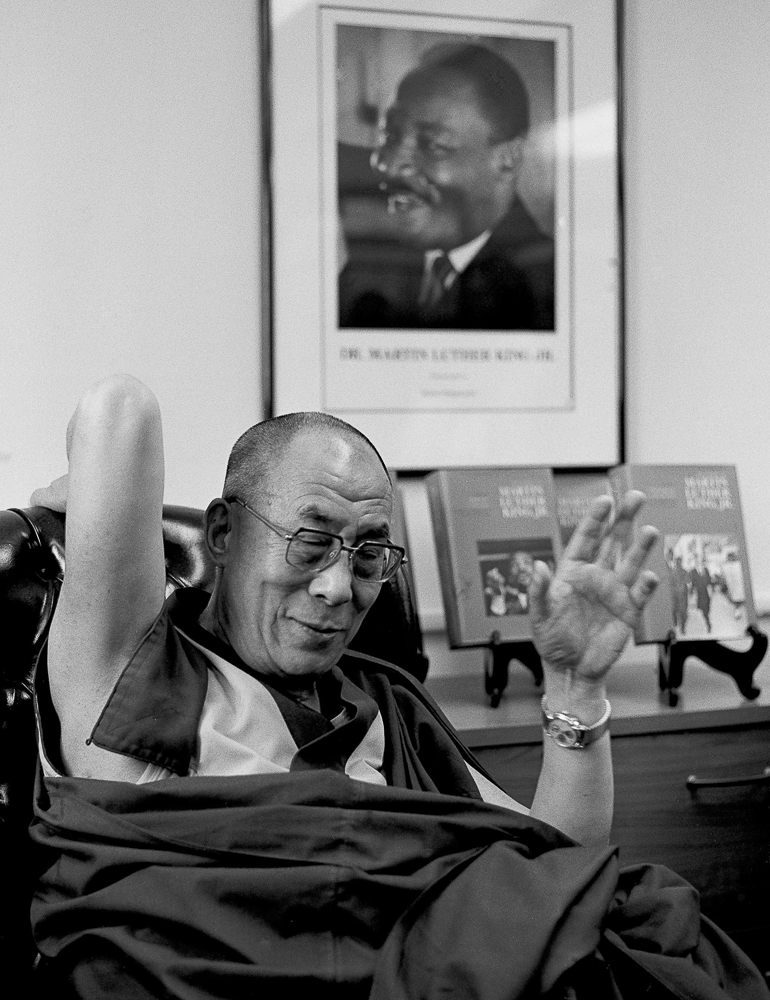 Dalai Lama
I have always been an admirer of Tibetan culture and His Holiness The Dalai Lama. You can imagine my excitement when, in the fall of 2005, I received a call from my friend Clayborne Carson, Professor of History at Stanford University and Director of the Martin Luther King Jr. Research and Education Institute, asking me to do a portrait of His Holiness the Dalai Lama during his visit to the Institute. His Holiness had accepted the invitation expressly because Martin Luther King, Jr. is one of his heroes! The Dalai Lama arrived soon after he had addressed thousands in Maples Pavilion and at Memorial Church on the Stanford campus.
I felt especially happy to be able to greet His Holiness as part of a small group of staff from the Institute. He arrived with his entourage, shook our hands and blessed the khata, the Tibetan traditional ceremonial silk scarf that each of us had around our neck. The khata is an auspicious symbol and lends a positive note to the start of any ceremony or relationship.
My challenge during his short visit was to get a good portrait of His Holiness juxtaposed to the framed portrait of Martin King on the wall behind him. It took some juggling with so many newsmen in the room, strobe lights and video equipment. But, I managed to snap the image that I wanted— two great leaders in one picture, one from the West and one from the East-- both heroes of mine in one portrait. As Henri Cartier Bresson says, "a decisive moment".
Margo Davis